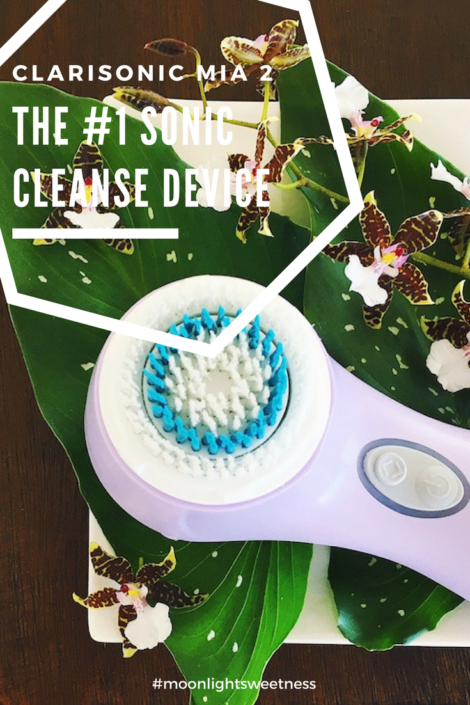 I bought my first Clarisonic back in November 2013 (yup, I remember that. Beware of my memory! lol). I had read and heard so many good things about it that I went to a  Sephora store in Orlando and bought it. Let me tell ya, it is one of the best investments I've made for my skin. And they hype surrounding this product was totally on point. Here's my feedback on what I think about the Clarisonic Mia2 – the #1 cleansing device that is a must-have-  and why I think you should be using it, no matter your skin type.
Ok, back in 2013, I had acne. Although it wasn't absolutely terrible, I did have to use concealer every day to cover the breakouts (I have very fair skin, hence you could see the very reddish breakouts from a certain distance). I also struggled with makeup removers and wipes because the skin on my face still felt clogged and not entirely clean after a thorough wash (I have a very specific beauty routine. You can read more about that here). All this dramatically changed after using the Clarisonic Mia2 twice a day (in the morning and at night, after removing all makeup). The Clarisonic gave my skin a deep clean without overdrying it or feeling abrasive. I have very sensitive skin and the Clarisonic (it comes with a sensitive skin brush head) worked wonders for my skin; it doesn't irritate my skin at all.  A week later, my skin was 90% clear from breakouts and I could really sense that my skin's pores weren't clogged anymore and that my skin was actually breathing.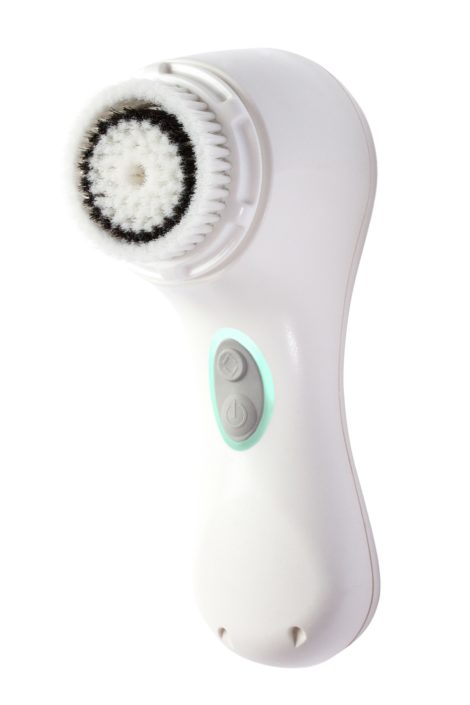 Due to my fair skin, I've always had some rosacea. But with the Clarisonic, my rosacea is barely noticeable. After just two weeks of using the Clarisonic, my skin was significantly smoother and radiant. My pores appeared to be smaller and my skin tone evened out. After only one month of using my Clarisonic, I had zero breakouts (yes, you read that right, ZERO), a very smooth skin and even tone, no rosacea, my pores appeared to be significantly smaller and a killer radiant look. I also noticed after just 3 days of using my Clarisonic that the skincare products I was using were better absorbed into my skin (all hail a sonic cleanse).
For the first time, in many years (over 5 years) I didn't have to cover any so-called imperfections (breakouts, rosacea, hyperpigmentation) with concealer. I was completely confident to be walking around make-up free. The best part was feeling good in my skin. It has now been 3 years and 3 months (pure coincidence it's all 3) since I became a fan of Clarisonic and my skin is very thankful. I am acne free most of the year; I do get breakouts (at the very most, I get 2 small breakouts, usually around my chin area), but that happens from 3-5 times a year (yasss, for real) and usually happens when I'm not drinking enough water per day (they're gone after 2-3 days. Just so you know, I eat a lot of sugary things so that kinda explains the breakouts). You do have to know it's impossible to be breakout-free all year round. This happens due to a lot of factors like polluted air, stress, poor eating habits, hormones, etc. You get the point. I just want you to have realistic expectations. Just don't expect to be acne free 100% the ENTIRE year. No product can offer you that because, like I mentioned, it has to do with other environmental/health factors. But once you start using the Clarisonic, your skin will dramatically improve.
The Technical Part
Ok, now on to the more technical stuff. The Clarisonic Mia2 (the one I use) has two speeds- the delicate speed and the universal speed-these various levels of sonic speed help you customize your cleansing experience and an on/off button (please note that prior to the first use, the device needs to be charged for 24 hours). Speed 1 (delicate) is designed for the most sensitive skins, while speed 2 (universal) is designed for normal skin. Even though my skin is super sensitive, I always use speed 2 (universal) and no redness occurs while using it. I would dare to say that the universal speed is safe for sensitive skin. Also, the universal speed enhances cleansing by 26% compared to the delicate speed. This product features a 1-minute T-Timer® that pulses momentarily to indicate it is time to move to another part of your face. The recommended time for each area of the face is (the T-Timer® pulses to let you know it's time to move to the next area):
20 seconds on forehead
20 seconds on nose and chin
10 seconds on left cheek
10 seconds on right cheek
With the Clarisonic Mia2, you can choose from a variety of interchangeable brush heads (which need to be replaced every 3 months) that are designed for a specific skin type and/or condition. When I started using the Clarisonic, I started out with the sensitive skin brush head (which is already included when you buy the device). As months passed, I moved on to the deep pore cleansing brush head, and I stuck to that one. The device is also waterproof (yes, it's safe to use in the shower) and rechargeable (usually, I recharge mine about every 3 weeks or so). It also has a 2-year warranty that covers any manufacturer defect-related problems and includes a hard travel case.
Ok, let's take a look at the pro's and con's of this product, shall we:
PROS
Improves skin tone and texture
Gives you a thorough clean without irritating your skin (a sonic cleanse)
Improves the effectiveness of other skincare products you might be using
Portable and easy to travel with
Rechargeable
Interchangeable brush heads
CONS
High-end price
Brush head needs to be replaced every 3 months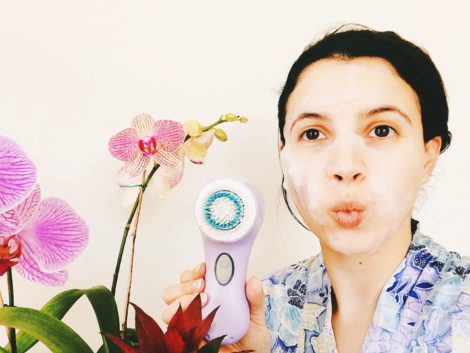 All in all, the pros for the Clarisonic Mia2 simply crush the cons. The investment made when purchasing the device is outweighed by all the benefits it conveys to your skin. And even though the brush head needs to be replaced every 3 months- which obviously costs money- the benefits still outweigh this minor cost, since this means it's more hygienic and no good amount of germs will be dwelling in your brush head (that means fewer breakouts as well).  Note that I did try other high-end cleaning devices but none were as effective as the Clarisonic.
So, are you ready to upgrade your skincare routine with the Clarisonic? Let me know in the comments below. If you have any questions you can leave a comment or send me an email to andrea@moonlightsweetness.com
Cheers! And happy sonic cleanse! 🙂
*In the spirit of full disclosure, this post may contain affiliate links. Please note that when you click links and purchase items, in most (not all) cases I will receive a referral commission. You will not pay more when buying a product through my link. In fact, I oftentimes am able to negotiate a lower rate (or bonuses) not available elsewhere. I only recommend products & systems that I use and love myself, so I know you'll be in good hands.