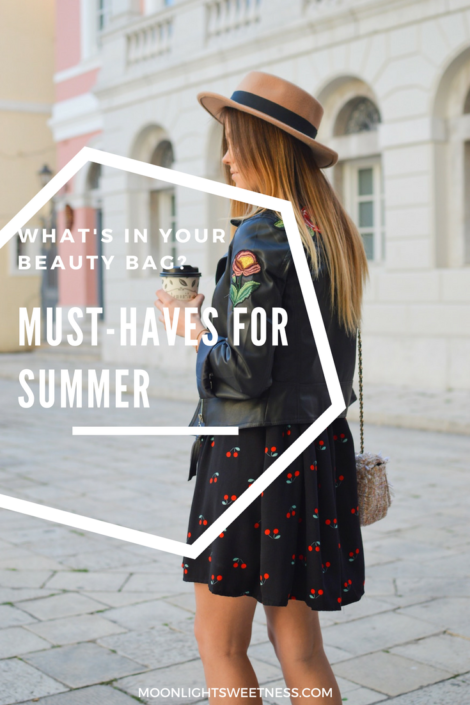 For most of us, Summer is already here. Melting heat has once more flooded our Summer days. And no, by now you probably know I'm definitely not a huge fan of hot-burning weather but hey, Summer is still a lot of fun and a wonderful time of the year (aka, vacation!)
I always carry certain products in my bag, no matter where I go. These help me look and feel amazing and make my life a bit more practical. So, if you're wondering what this year's must-haves for your beauty bag, well, look no further and scroll down 🙂
So, no matter how hard you melt-proof your makeup (check out these superb Summer beauty buys), with Summer days like the present one, you will have shine and will end up doing the 'glowy' look a bit too much. Yes, your makeup will likely stay put if you use this product, but there's no way you can fully control shine. I know we all want glowing skin but without looking like we showered with a gallon of baby oil and didn't even bother to rinse. Hence, you need to blot up with these. Now, there are several brands that offer these but these are my favorites because they contain green tea.
These portable Boscia Green Tea Blotting Linens contain 100% natural Abaca Tree fiber and are infused with soothing green tea extract to absorb excess oil and reduce shine without disturbing makeup. The Abaca Tree, which comes from the banana plant family, contains fibers that are soft, silky, and perfect for absorbing oil and perspiration. Green tea extract is a key antioxidant with natural antibacterial benefits to soothe as it protects the skin from free-radical damage. It's woven into the fibers for maximum benefits.
These are total life saviors all year long, to be honest. But they come especially in handy during  Summer days.

Summer isn't precisely nice to your skin. Well, no season is I guess. But during hot Summer days, your skin tends to dehydrate and due to the heat, you might experience larger pores than usual. Fear not, my loves! Word has it everything has a solution and I believe it, lol. So, in order to keep a nice, natural, no baby oil shower glow, you need to quench your skin with the right product. 
Caudalie's Beauty Elixir is a natural, innovative toning mist that sets makeup, provides an instant burst of radiance, and tightens the appearance of pores. This beauty elixir was inspired by Queen Isabelle of Hungary's famous elixir of youth.  It is formulated with grape extracts and clarifying ingredients to provide an immediate burst of radiance, and the complexion treatment reduces dullness and is infused with toning rosemary, astringent mint, and soothing rose essential oil to prepare your skin for further treatments. The Beauty Elixir is the ideal priming base and setting spray between layers of makeup for a long-lasting and smooth finish (and can even be used as the perfect aftershave for men). Caudalie's formula contains essential oils and plants extracts to clarify and brighten the complexion.
This is the perfect item to carry in your bag (don't worry, there's a travel size available). You can use it mid-day at the office for an instant pick-me-up and in the evening to refresh your makeup so that it looks like you had just applied it. Voilá! (I had to throw in some French, lol)

With the sweaty weather, perfume is a most. And a portable one is ideal (I mean, really, who wants to carry a large bottle of perfume in her bag?) So, you will sweat and well, with sweat comes a very distinct odor. My favorite: Yves Saint Laurent BLACK OPIUM is an addictive gourmand floral with notes of black coffee for a shot of adrenaline, white florals to instantly seduce and vanilla for sweetness and sensuality. It's top notes: mandarin, pink pepper, pear. Middle notes: jasmine, orange blossom. Base notes: cedarwood, patchouli, vanilla, coffee.
This is one I ALWAYS carry in my bag.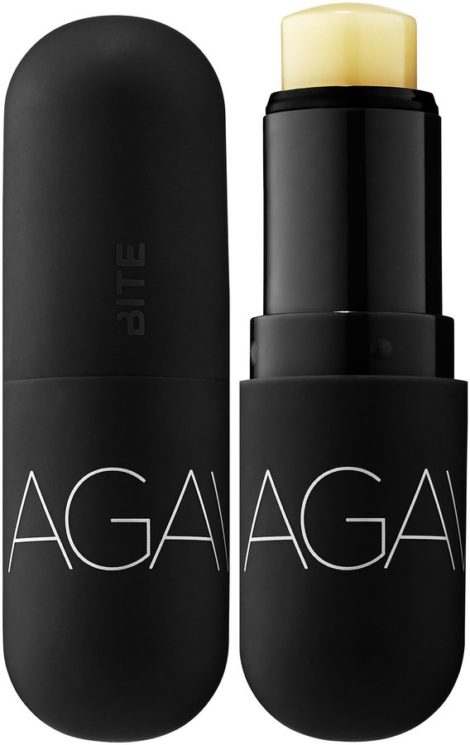 Don't forget your lips! My lips pretty much crack in every season, not just Summer. Well, that was until I found this superb Agave Lip Balm from BITE BEAUTY. This Agave lip balm is the perfect soothing balm for ultimate hydration and recovery that quickly repairs and restores lips.
Now, if you're wondering where's the SPF? Well, there's none. Let me explain…For years, and I mean YEARS, I couldn't find anything that would avoid getting my lips all chapped. This lip balm did the trick for me. I noticed that those with SPF left a weird residue on my lips so, instead, here's my beauty hack: Apply the Agave Lip Balm first hand. Allow 30 seconds to pass and then, apply the lip balm with SPF of your choice (I use this one). The reason I do this is because the Agave lip balm hydrates my lips and nourishes them, resulting in super soft lips, with no sticky, and no residue feel (it can also act as a primer for any color application).
Applying this kind of creates a barrier for my lips and then, the SPF lip balm I apply later locks it in and gives the solar protection I need. For me, lip balms with SPF just didn't do the trick for me. Using it alone is no longer a choice, I have to layer it on top of my BITE Beauty Lip Balm. It took me over 7 years to figure this out! Go ahead, have a proper laugh at me 😀
ONE LAST THING…
Ok, so if you're wondering why this isn't a long list, well, it's because I try to be practical and not stuff my bag with too many things and then ending up with shoulder pain. But, before I say my goodbyes, ladies…..WEAR SUNSCREEN!!!!!!! And yes, I said that in a loud voice, kind of scolding you, lol. I cannot stress enough the importance of wearing sunscreen daily (you can read more about that here). Sunscreen is by far the best anti-aging product. Use it! Needless to say, it protects from skin cancer. Really? Do you need more reasons?
So there you have it, 4 must-haves for your Summer beauty bag. I hope you find this list helpful and if you would like me to include one that's not on the list, don't be shy! Shoot me up a message.
If you enjoyed this post, I would love if you pin it and check my other beauty advice posts! 🙂
Until next time!
Cheers y' all! 🙂
*In the spirit of full disclosure, this post may contain affiliate links. Please note that when you click links and purchase items, in most (not all) cases I will receive a referral commission. You will not pay more when buying a product through my link. In fact, I oftentimes am able to negotiate a lower rate (or bonuses) not available elsewhere. I only recommend products & systems that I use and love myself, so I know you'll be in good hands.
SHOP MY SUMMER BEAUTY BAG PICKS: