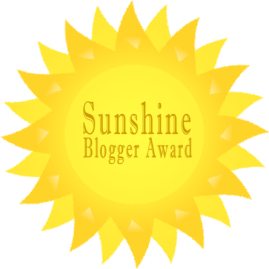 I had just finished breakfast and the invigorating aroma of freshly ground coffee filled the house. I poured a tall cup of coffee, my own coffee (yup, I grow, harvest and process my own coffee, but that's another story I promise to write about later on), grabbed my phone and started checking my social media accounts. After checking my Instagram, I noticed my Facebook Messenger app had a little "1". I opened the app, I tapped on the new message and boom! -the biggest surprise so far in my blogging adventure- I was notified that I had been nominated for the SUNSHINE BLOGGER AWARD. I couldn't believe my eyes.
My two dogs, Frijola and Luna, were sitting right next to me and saw me get up from my chair and watched me jump around and scream "yay!!!". They tilted their head, stared at me, and probably thought to themselves "oh boy, our human just went bonkers!". I kinda did for a few minutes, lol. I was too excited! I was frantically saying to them "hey guys, your mommy got nominated!"
So, what exactly is the Sunshine Blogger Award? The Sunshine Blogger Award is a nomination given to bloggers by bloggers. Members of the blogging community nominate others who they think are inspiring and bring the sunshine into the lives of their readers.
Darrica from Dear Darrica was responsible for my tremendous-over-the-top excitement. She kindly nominated me for the award. Darrica, a Beachbody coach, runs an amazing lifestyle blog where she hosts different types of challenge groups where you will find support and accountability to stay on top of your fitness goals. In addition, she discusses the heavy matters of life and writes about her dazzling travel adventures. So don't miss out on anything and check out her amazing blog!
Ok, so now that I've been nominated, it's my turn to spread the excitement, the sunshine if you will, into another blogger's life.
The Rules
1. Thank the person who nominated you, and post a link to their blog on your blog.
2. Answer the 11 questions your nominating blogger asked you.
3. Nominate other blogs and give them 11 questions to answer.
4. Notify your nominees.
5. List the rules and display the Sunshine Blogger Award logo in your post.
Oki Doki, let's get down to the juicy questions:
1. Where would you like to be in 5 years?
This is one of the hardest questions anyone can ask me. For real. It's tough deciding on that because life takes so many turns but I would dare to say that in 5 years, I'll be my own boss, and would be traveling all around, making the world my personal office. 🙂
2. What was the experience that impacted you the most in your life?
Finding out that my Dad was diagnosed with cancer. I had already lost two relatives to cancer and when I heard the prognosis, I obviously imagined the worse scenario possible.
3. What is one thing you've always wanted to cross off your bucket list, but haven't yet?
Skydiving! I so want to do that but I never make the time for it. I promise myself I will skydive on 2017. I'm thinking skydiving in Australia might be kinda cool.
4. If you could choose one superpower, what would it be and why?
It would be the ability to watch people workout and then absorb their health benefits. Lol. No, just kidding, but that would be kinda cool, haha (and mean). I guess it would be having a mathematical superpower. Yes, numbers, equations. I never considered myself particularly skillful at math. To this day, I still wonder how on Earth did I manage to take and pass over 10 math and math-related courses at my university. It really baffles me. I'm thinking John-Travolta-in-Phenomenon-movie kind of superpower 🙂 .
5. How would your best friends describe you?
To be completely honest, I had no idea. To answer this question, I texted them and asked them how they would describe me. Here's what they wrote:
"A determined woman ready to fulfill her dreams and goals. An intelligent, positive, analytic, effective and strong gal. A good friend and a  beautiful person anyone would love to have by their side."
I got to admit it, my friends rock! I was flattered when I read how my friends described me. It made my day.
6. If you could change anything about your past, what would it be?
Honestly, nothing. I've had hard times in the past but those moments, those experiences have shaped me into who I am today. The past is a lesson, not a sentence, and I don't regret anything in the past, no matter how difficult or painful it was. It made me who I am nowadays.
7. What's the one thing you would like to change about yourself today and why?
I need to not overthink my overthinking. Seriously, this just leads to drowning in a glass full of water. I am working on that, but there's still more to go.
8. Where do you go when you need some inspiration?
Ummm…is Pinterest a valid answer? Lol. Really, I go on Pinterest. Enough said.
9. Who is the first person you call when you're in trouble?
God. Now I know I can't phone him directly but praying is kinda very close to that. Whenever something bad happens or whenever I screw up, I go "yikes! Dear God, help!"
10. What is the best advice you've ever been given?
"Concentrate on the positive, not the negative. There's good in everything and everyone."- Aunt Ada
My aunt gave me this advice several years ago. Her advice was a life changer for me. It's not easy to practice this, believe me, but it does make you see people and situations from a different perspective.
11. What is your favorite childhood memory?
That would be when my parents told me they were taking me to Disney World, Sea World, and Busch Gardens. That was in 1996 and to this day, I still remember the exact place where I was standing when they dropped the news. I pinched myself just to make sure I wasn't dreaming.
Ok, now. Enough about me. It's time to spill out my nominees for the Sunshine Blogger Award *drumroll*!
The reason I chose these nominees is because they undoubtfully spread some serious sunshine into the lives of their readers. They inspire others and are genuine bloggers who care about their tribe.
And without  further ado, here they are:
Emily Carpenter from Bloom and Bless – She runs an amazing faith driven blog and helps women bloom into the best version of themselves. She's also one the sweetest gals you'll ever meet.-
Elise Hodge from She is Light– She dedicates to placing value on women to pursue purpose and heads a global movement of women who know their worth and are pursuing their purpose. Talk about empowering, eh? Oh, let's not forget she's Australian. It can't get cooler than that!-
Jackie Cambron from My Tuilerie Box by Jackie Cambron-She gives you a serious dose of everything style-related. She's also a mom and has one of the most adorable kids you can imagine. You're in for a very artsy gal.-
Here are your questions bloggers:
What is the purpose of your life? What makes you get up every morning?
If you could send a message to the entire world, what would you say in 40 seconds?
Name 7 things/places you consider to be the most beautiful in the world and explain why.
What does happiness mean to you? 
If you could start over, what would you do differently?
What do you want most out of life?
What did you want to be when you were a kid?
What is the greatest adventure of your life?
What is the last thing that you've done that's really worth remembering?
If you had to teach someone one thing, what would you teach?
When did you not speak up, when you know you really should have?
Now go spread some sunshine, you lovely ladies! 🙂