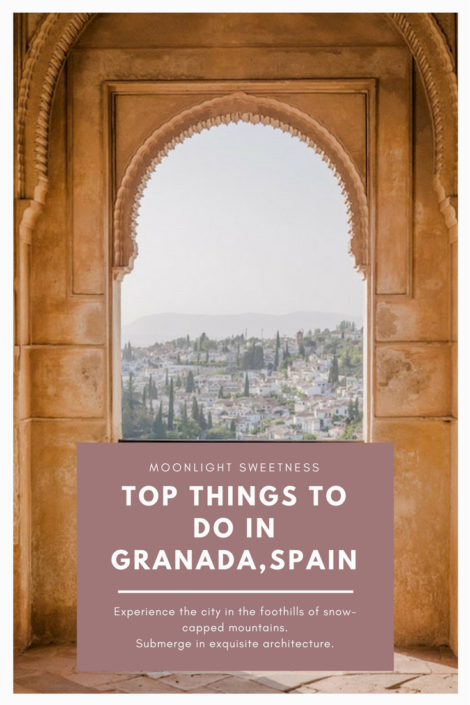 Granada is a small but intensely vibrant (and romantic) city in Spain. It offers astounding architectonic structures submerged in history. If planning a trip to Spain, Granada is one of the places you HAVE to visit. I only got to spend 24 hours in this marvelous city, but I was inspired by its culture and people. So, without further ado, here is my list of the top things to do in Granada, Spain.
1. ALHAMBRA & GENERALIFE
Seriously, this is a must! Alhambra is a palace and fortress complex located in Granada, Andalusia, Spain. It was originally constructed as a small fortress in AD 889 on the remains of Roman fortifications, and then largely ignored until its ruins were renovated and rebuilt in the mid-13th century by the Moorish emir Mohammed ben Al-Ahmar of the Emirate of Granada, who built its current palace and walls. It was converted into a royal palace in 1333.  After the conclusion of the Christian Reconquista in 1492, the site became the Royal Court of Ferdinand and Isabella (where Christopher Columbus received royal endorsement for his expedition), and the palaces were partially altered to Renaissance tastes.
In 1526 Charles I & V commissioned a new Renaissance palace better befitting the Holy Roman Emperor in the revolutionary Mannerist style influenced by Humanist philosophy in direct juxtaposition with the Nasrid Andalusian architecture, but which was ultimately never completed due to Morisco rebellions in Granada.
The palace complex is designed in the Nasrid style, the last blooming of Islamic Art in the Iberian Peninsula, that had a great influence on the Maghreb (Northwest Africa) to the present day, and on contemporary Mudejar (name given to individual Moors or Muslims of Al-Andalus who remained in Iberia after the Christian Reconquista but were not converted to Christianity) Art, which is characteristic of western elements reinterpreted into Islamic forms and widely popular during the Reconquista in Spain. ["Alhambra". Wikipedia. 11 Jun.2017. Web]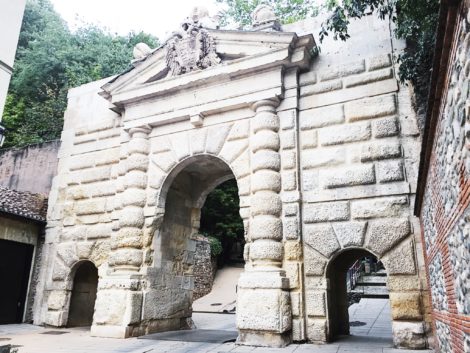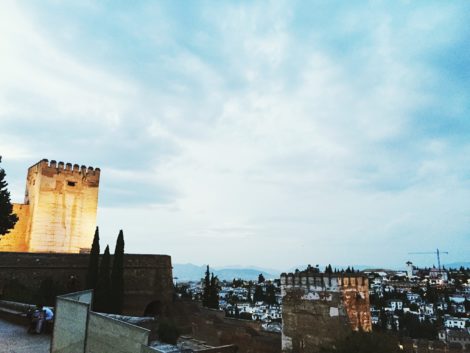 The Generalife is a garden area attached to the Alhambra which became a place of recreation and rest for the Granadan Muslim kings when they wanted to flee the tedium of official life in the Palace. Its style is  Islamic Nasrid and is today one of the biggest attractions in the city of Granada. The Generalife was declared a World Heritage Site by UNESCO in 1984. ["Granada". Wikipedia. 15 Jun.2017. Web.]
VISITING ALHAMBRA
The place is not only magical but breathtaking and obviously, full of history. If you want to visit this ah-mazing place, please book your tickets in advance here.  Why book in advance, you say? Well, Alhambra has a limited visitor capacity per day. Some days, you'll find really large groups of tourists and the available entry tickets will be very limited.  So booking in advance is a smart idea. When you book,  you have to choose the time of entry to the palaces. HINT: Choose the earliest hour…I'll explain why give me a sec… The very first time of entry is absolutely magical; there's a different energy in the place. At this time it isn't crowded yet and you get to have a more intimate experience. Getting up earlier on that day is totally worth it, trust me. Oh, and wear comfy shoes, you'll be doing a lot of walking that day.
2. PALACE OF CHARLES V
The Palace of Charles V is a Renaissance building in Granada, located on the top of the hill of the Assabica, inside the Nasrid fortification of the Alhambra. The building has never been a home to a monarch and stood roofless until 1957.
The structure was commanded by Charles V, Holy Roman Emperor, who wished to establish his residence close to the Alhambra palaces. ["Palace of Charles V". Wikipedia. 30 Mar.2017. Web]
You can visit the Palace free of charge. Yes, that's right, gratis! It'll take you about 30 minutes to tour it, maybe a bit more if you're into photography (you'll take great shots there).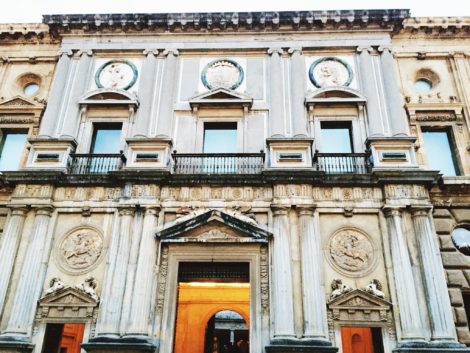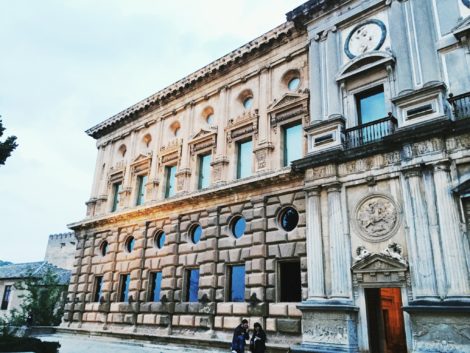 3. SIERRA NEVADA
Sierra Nevada ("snowy mountain range" in Spanish) is Europe's most southerly ski resort. The range has also been declared a biosphere reserve. You can visit the range at any time of the year, but you will encounter ski attractions only during the Winter (quite obvious, right?). It reaches its highest temperature in July, at 70.9 Fº (21.6 Cº), and its lowest in February at 17.9 Fº (-7.9 Cº).
There is quite a large range (see what I did there? 🙃) of activities to choose from all year long. Different activities include visiting river gorges, canyoning, rafting, tandem paragliding, horse riding, trekking, and much more. In case you haven't been able to tell, I'm a bit outdoorsy 🙂 The Sierra Nevada also guarantees you spectacular sunrises and sunsets, and a breathtaking view of Granada. You can find more information here.
4. THE CATHEDRAL & THE ROYAL CHAPEL
Unlike most cathedrals in Spain, construction of this cathedral had to await the acquisition of the Nasrid kingdom of Granada from its Muslim rulers in 1492. The main chapel consists of a series of Corinthian columns on which capitals is the entablature and, over it, the vault, which houses a series of delicately stained glass windows. ["Granada Cathedral". Wikipedia. 8 Jun.2017. Web.]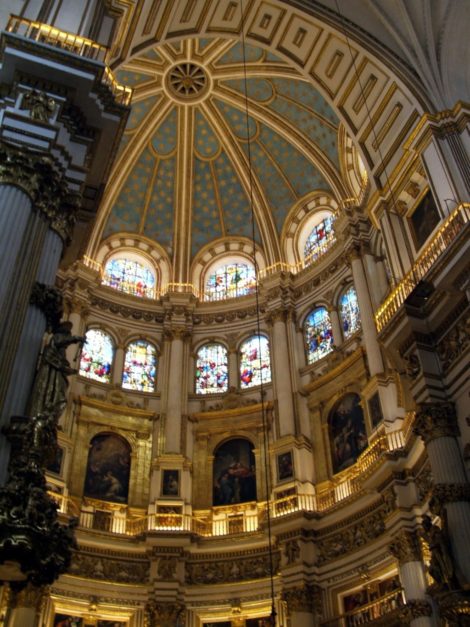 The Royal Chapel of Granada is an Isabelline style building located in the heart of Granada, next to the Cathedral. This chapel serves as a burial site for the Catholic Monarchs, their daughter Joanna of Castile "the Mad", and her husband, Philip I of Castile "the Handsome". ["Royal Chapel of Granada". Wikipedia. 17 May 2017. Web.]
5. WHERE TO EAT ➺ TENDIDO 1
Now, as beautiful as the tour around Granada can be, we all got to eat (I get really cranky when I'm hungry 🙈). Tendido 1 is a restaurant at the Plaza de Toros (bullring) in Granada. It's actually located right beneath the grandstand. So, you see, you get 2 x1 at this place. You get to eat at a magnificent restaurant, at an exceptionally picturesque location. It's quite uncommon for there to be a restaurant beneath the grandstand of a bullring, ya know?!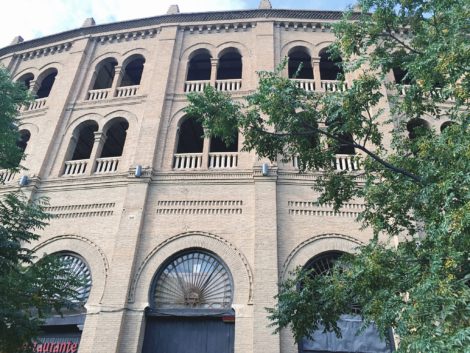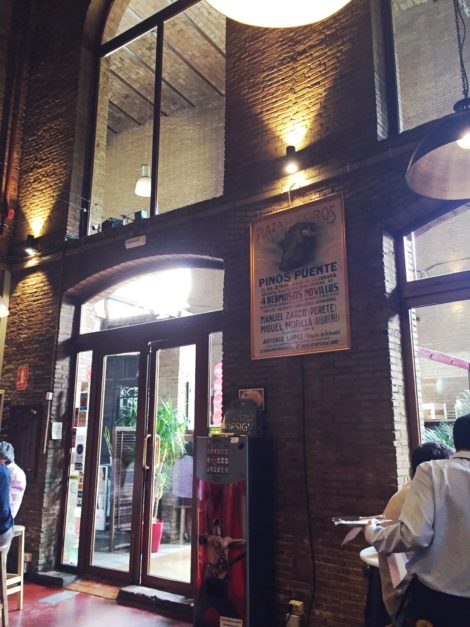 This restaurant offers exquisite tapas and wine, a mouthwatering bull tail (I know what you're thinking, sounds weird, but it's de-li-cious!), and decadent desserts (dessert addict here 🙋🏻), all in an Instagram-worthy location.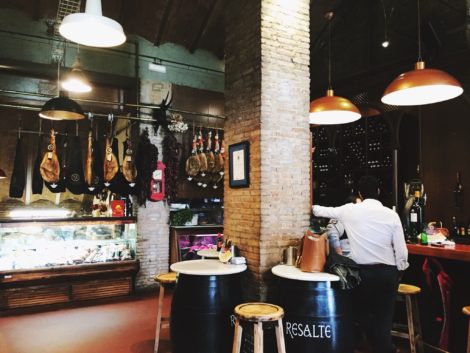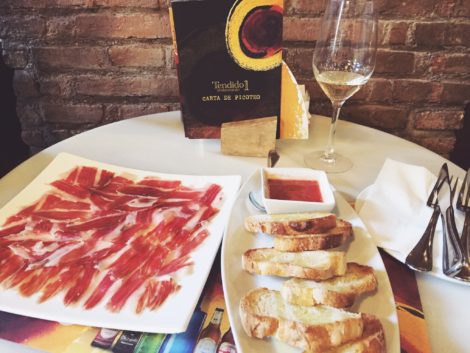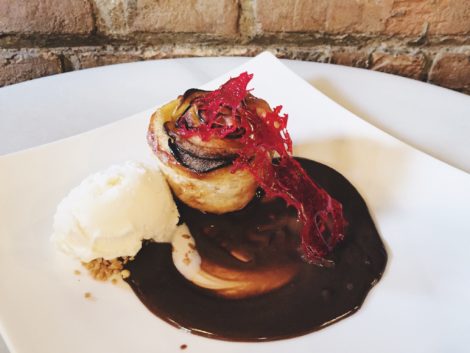 A COUPLE MORE TIPS
Granada is a walkable city. Walk it! You won't regret it. Granada's streets are so scenic there's even a site that offers free tours. You can check it out here.
I can't stress this enough but please wear comfortable shoes!
Have some orange wine (not to be confused with orange liquor). You only find this in Granada and Seville.
Ok, lovelies! That's it for today's post. Now, tell me, have you been to Spain? What was your favorite thing about Spain? Let me know in the comments below 🙂
Cheers, Y'all! 🤗