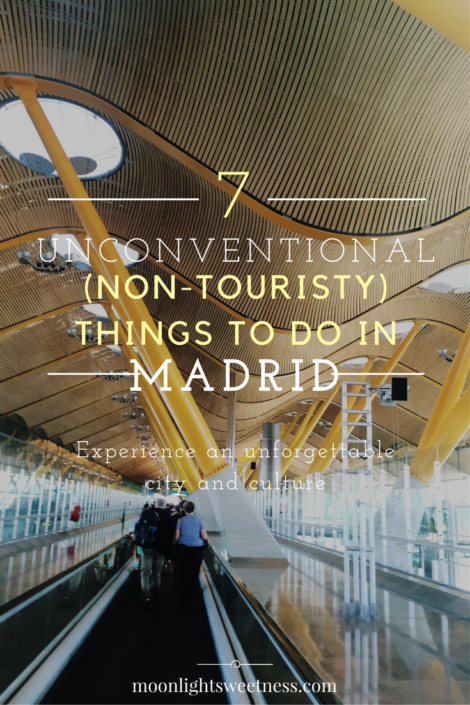 Sure, it's great to visit touristic sites in Madrid. You can grab a few tapas at Mercado de San Miguel (expect a lot of people here and higher prices), you can go to Temple of Debod (a reconstructed ancient Egyptian temple), visit Santiago Bernabéu (famous home ground for Real Madrid FC) or you can go shopping at Gran Vía. Madrid is anything but boring. And although I do recommend you visit the places mentioned above, there is SO MUCH MORE to Madrid. Instead of just being a tourist, why not experience the city, the culture? Ok, I have to admit it…Madrid is now officially my favorite city. Hence, this post, lol. But, if you are anything like me and you are not a big fan of conventional things, of super crowded places where you see tourists flocking in, well then, keep reading. You won't regret it! 🙂 And without further ado, here is my list of  7 unconventional (non-touristy) things to do in Madrid.
1. A Flamenco Masterclass
Flamenco is a traditional Andalusian dance. It vibrates with so much energy and power, yet it is undeniably graceful. Flamenco was even declared by UNESCO one of the Masterpieces of the Oral and Intangible Heritage of Humanity. Sure, dancing salsa and cha-cha-cha is cool, but why not take it up a notch, eh? You can take a private masterclass in one of the most typical and emblematic "tablaos" (floorboard, where flamenco is performed) of the city, Casa Patas. Trust me, this is something you're totally going to want to brag about later on ;-).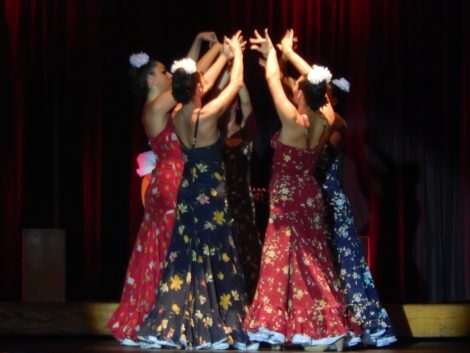 2. Rossano Ferretti Hairspa
Hands down to the best hair salon I've ever been to. Yeah, it's a thing of mine to have my hair done in acclaimed hair salons whenever I travel. Rossano Ferretti Madrid will blow your mind. The techniques they use are completely exclusive to Rossano Ferretti. If you want a new hair cut and balayage or anything hair related, this is THE place to go. No wonder Kate Middleton and sister Pippa choose Rossano Ferretti's salons to get those enviable tresses. You can also add Jennifer Lawrence, Reese Witherspoon, and Dakota Johnson to the list of celebrities that have all been spotted at such luxe salons. Why Rossano Ferretti, you might ask? The Method created by Rossano and Lorenza Ferretti is a completely new concept of hair cutting; it is all about the natural fall of the hair. This method allows the designer to enhance the individual beauty of every client, customizing the haircut according to the hair type and the characteristics of the individual person. Not your ordinary haircut then. This is something you can't get at the salon across the street (unless, of course, you live across Rossano Ferretti's).
You're probably thinking of prices now, right? Rossano Ferretti Madrid is not cheap but it is affordable (no, you're not going to pay what Kate or Pippa Middleton pay, so chill). For a haircut, balayage and blow dry, I paid around €200, and it was worth every single penny. You won't regret it. Also something you're going to brag about ;-).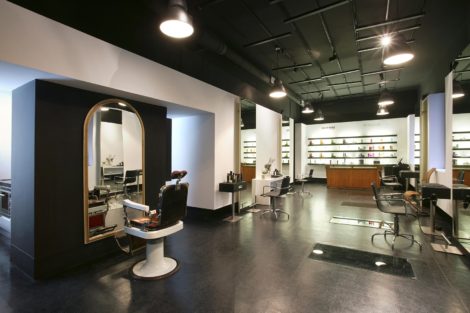 3. Dine at a 3* Michelin Restaurant-DiverXO
Chef Dabiz Muñoz leads this singular restaurant that has even been compared to "Cirque du Soleil"- unique and inimitable- a true sensorial experience. The food here is out of this world.  Yes, it does come with a price tag. He offers two menus: The XOW €185 and the XEF €225. Although it may seem a bit pricey, are you really going to put a price on sensational, unique and mouthwatering food? Yeah, didn't think so. Make sure you have a reservation, though. You can do that here.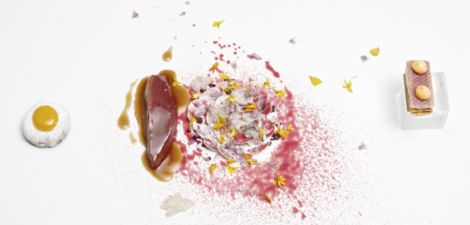 4. Faro de Moncloa
Gaze at Madrid from a higher perspective (302 ft. to be precise) at Faro de Moncloa. You will be able to see the Royal Palace, Almudena Cathedral, the Four Towers Business Area, Cibeles Palace and fantastic views of the city. This used to be a transmission tower and now serves as a panoramic view of Madrid. Inside, you will be able to find information panels that describe the city's growth through the course of history. If you're into photography, this place will give you amazing photoshoots. You can buy online tickets here. Please note that the tickets are hour-specific.

5.  Parque El Capricho
El Capricho translates to "whim" in English. The Whim Park? Ok, I'll stick to the name in Spanish. Actually, the full name in Spanish is "Parque El Capricho de la Alameda de Osuna" (extra points to whoever can remember that name and pronounce it, after reading it only once, lol).  This is one of the most beautiful, yet surprisingly, most unknown parks in Madrid. This park offers three different types of gardens: French garden, English landscape garden, and the Italian giardino. You're going to feel like you're in one of  Jane Austen's books, for sure.
Furthermore, this park has a hidden bunker. It was used during Spain's Civil War and it is 49 ft. deep. It was constructed so it could withstand up to 220 lbs bombs. If you wish to take a guided tour of the bunker, you need a reservation but there's no entrance fee. Who doesn't like free stuff? 🙂 The entrance to the park is also free, and it's open Monday through Sunday. If you wish to know more information about visiting this gorgeous park, please send an email to  paa@talher.com .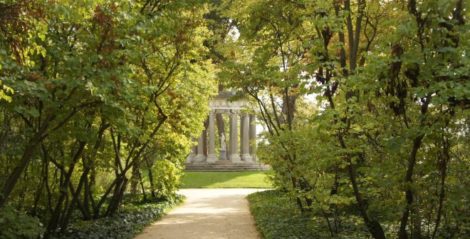 6. Bombonería La Pajarita
Totally not your ordinary candy store. This phenomenal candy store dates back to 1852. Yup, 165 years in business! This is one of those centenary stores that you MUST visit. The amazing candy is just a plus :). Their candy is handmade to this day and they preserve the same recipes of over a 100 years ago. Not only will your sweet tooth go crazy here, but the place is also Instagram worthy. The store is located in Calle Villanueva No.14; it opens from Monday to Saturday.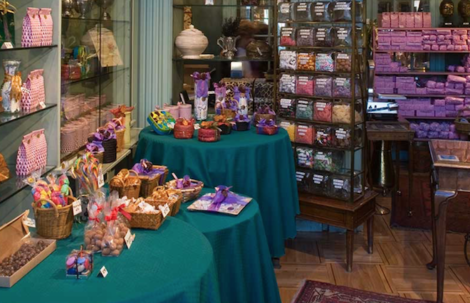 7. Biblioteca UNED de Escuelas Pías
This is a church turned into a library. This was once Iglesia de las Escuelas Pías de San Fernando and it was built between 1753 and 1791. If you're a bookworm and also happen to like architecture…this is the place for you. This place will make you feel like you're traveling in time. The moment you enter you will be in complete awe. I won't get into too many details here, because the truth is, YOU NEED TO SEE IT to actually appreciate it. You can get a library card with just showing your passport.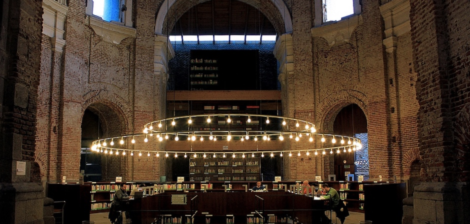 A Few More Tips
Ok, so now that I've given seven unconventional things to do in Madrid, I still have to throw in a couple more tips so that when you visit Madrid, you'll make the most of it.
1. Room Mate Hotels: If you are one of those peeps that like to stay at really nice hotels but you are not a fan of high prices for these types of accommodations…remember this name: Room Mate. Room Mate is a chain of hotels in Spain where you are bound to be treated like royalty. I mean it, their customer service is outstanding, the rooms are modern, chic and elegant and by staying here, you get a boutique hotel experience without the hefty price tag. My favorite in Madrid is Room Mate Laura, but there's also Room Mate Oscar, Alicia, Mario and soon there will be Room Mate Rex. These hotels are always exceptionally located, so know that if you stay at a Room Mate Hotel, you will be in one of the best locations. These folks offer location, location, location and an impressive customer service. Needless to say, the cleanliness is excellent (and I am very, very picky when it comes to cleanliness).
Now, don't make the same mistake I did and end up booking cheaper hotels in Madrid from other chains…you'll save at most €20 to €30 and it's so not worth it. Not clean, cold showers, terrible hygiene and… I got a lot of hotel horror stories but not from Room Mate (you can tell I'm a huge fan of Room Mate, right? lol) Trust me, booking with Room Mate will guarantee you an awesome stay in Madrid.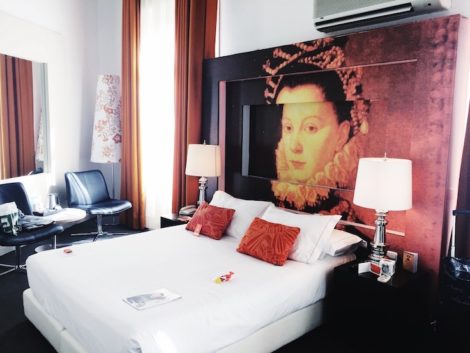 2.Le Vuelà Gourmet Travels: Do you want to get even better prices? I mean who doesn't'? Unless, of course, you harvest dollar bills from the tree in your backyard?… Nope, didn't think so. Hence, you can get in touch with LE VUELÀ, a Spanish-based travel agency (yes, I'll give you their contact info.) and they can customize your travel plans while getting you amazing deals. Seriously, these guys manage to get you such amazing prices. You can even book the flamenco masterclass through them and get a better deal. They'll guarantee you a fantastic visit to Madrid ;-). If you want more information you can send an email to info@levuela.com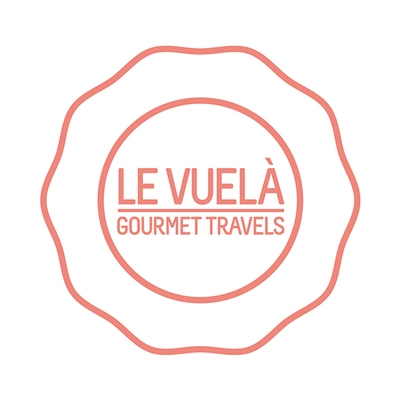 Ok…Madrid is a vibrant city with countless things to do. Make the most of your stay in Madrid and enjoy their culture, experience this amazing city. Till next time y'all!
Which are your favorite, non-touristy places in Madrid?
*Please note that this post contains  NO affiliate links and it is NOT a sponsored post. These are recommendations based on my personal experience and I only recommend what I love. Just thought you should know 🙂 If you have any questions, please don't hesitate to send me an email at andrea@moonlightsweetness.com
Cheers!