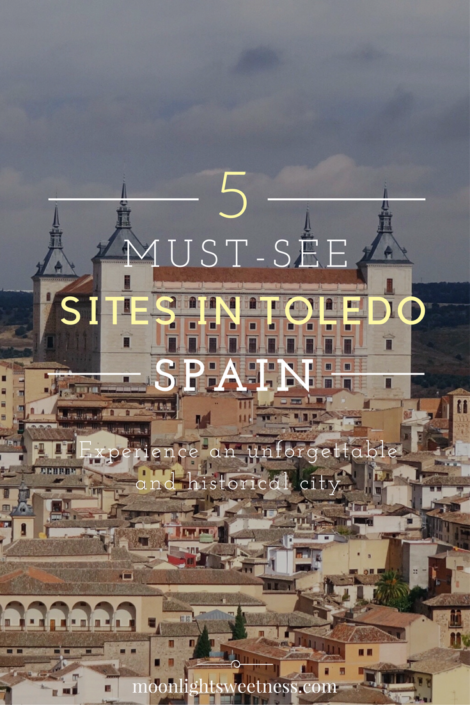 Toledo, a UNESCO World Heritage site, really transports you back in time. Just a 30-minute train ride from Spain´s vibrant capital city, Madrid, (if visiting Madrid you will also want to check out this post) this historical city with spectacular remnants of the Jewish, medieval Arab, and Christian culture is bound to dazzle your senses. Take a look at what you CANNOT miss in Toledo or in other words, here are the must-see sites in Toledo, Spain.
But before starting here´s something you should know: WEAR COMFORTABLE SHOES. You will be doing a lot of walking in Toledo, so be sure to pack comfy shoes and this way you can really stroll joyously through this city. (Hint: Toledo´s streets have lots of ups and downs, you´ll get a proper dose of exercise here). Ok, now we can start.
Alcázar de Toledo
In the highest part of Toledo, with 1,798 ft., is this stone fortification It now houses the Castilla-La Mancha Regional Library (Biblioteca Autonómica) and the Army Museum (Museo del Ejército). After its last renovation, it also houses a few offices occupied by the Army.
It is impossible not to see this fortification (unless you sometimes live on another planet in your head, kinda like me, lol) once you start entering Toledo.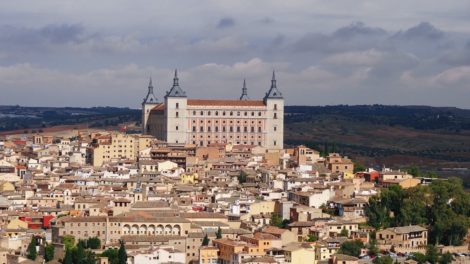 Santa María La Blanca (Saint Mary the White)
The moment you step foot in it this breathtaking synagogue, you will be in complete awe. The focal point of the synagogue is the clam-shell topped arch at the center of the building. This was the location of the Torah Ark. The synagogue is now owned and preserved by the Catholic Church.
This ancient synagogue, erected in 1180, is arguably considered the oldest synagogue building in Europe still standing. It is considered unique as it was constructed under the Christian Kingdom of Castile by Islamic architects for Jewish use. It is considered a symbol of the cooperation that existed among the three cultures that populated the Iberian Peninsula during the Middle Ages. ["Santa María La Blanca".Wikipedia. 25 Apr.2017.Web]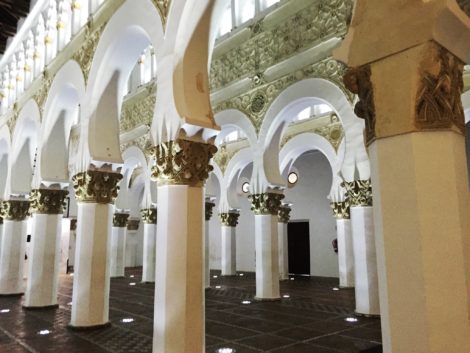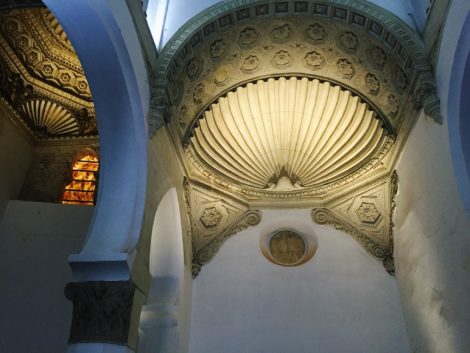 A little history lesson from Wikipedia on this synagogue:
In 1405, Vincent Ferrer, a Dominican priest, came to Toledo to preach a series of sermons against the Jews. One particular sermon allegedly drove his listeners to run out of the church, gathering a mob as they ran through the streets, and burst into the synagogue. They dragged out all the Jews they could find, slit their throats, and threw them over a nearby parapet onto the rocks below. The synagogue was not surprisingly turned into a church shortly thereafter, then converted for use as a monastery, and later as an armory and warehouse. The building was eventually declared a national memorial site and restored in 1856, but there were numerous changes and evolutions which the building went through during this period. The building was, at first used for prayer services, and believed to be used by recent converts from Judaism to Catholicism. In 1550 the building and its courtyard became the property of an order of monks who sought to purify the building of its Jewish past. They named the building Santa Maria La Blanca, meaning St. Mary the White, in an effort to drive out the perceived "darkness" of the building's Jewish past. ["Santa María La Blanca".Wikipedia. 25 Apr.2017.Web]
In 2013, a request was made by the Jewish community of Toledo to the Roman Catholic Archbishop of Toledo Braulio Rodríguez Plaza for the Church to transfer the ownership and custodianship of the synagogue. As of late 2016, the Church had still failed to respond. ["Santa María La Blanca".Wikipedia. 25 Apr.2017.Web]
I'm tellin' ya, YOU MUST SEE THIS HISTORICAL SYNAGOGUE! (Please note the capital letters don't stand for me yelling at you, it's just to note my enormous excitement for this place). The entrance fee is €2,50.
Catedral de Toledo (Toledo Cathedral)
With its Gothic architecture, this is another MUST-SEE site in Toledo. This Roman Catholic cathedral is one of the three 13th-century High Gothic cathedrals in Spain. It is built with white limestone from the quarries of Olihuelas, near Toledo. The spectacular incorporation of light and the structural achievements of the ambulatory vaults are some of its more remarkable aspects. ["Toledo Cathedral". Wikipedia. 20 Mar. 2017. Web]
The main façade has three portals, known as Puerta del Perdón (Portal of Forgiveness, in the center), Puerta del Juicio Final (Portal of the Last Judgment, to the right) and Puerta del Infierno (Portal of Hell, to the left). The Portal of Forgiveness belongs to the 15th century—it was begun under the direction of Alvar Matinez in 1418. It is so called because indulgences were granted to penitents who entered through it. These days it is always closed and is used only on special occasions and upon the investiture of new archbishops of the primate cathedral. ["Toledo Cathedral". Wikipedia. 20 Mar. 2017. Web]
Note there is an entrance fee of €11. Make sure you plan ahead your visit to the Cathedral as it is not always open.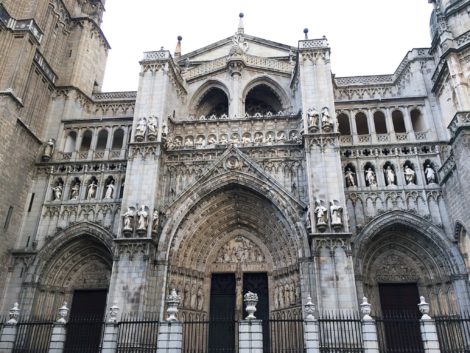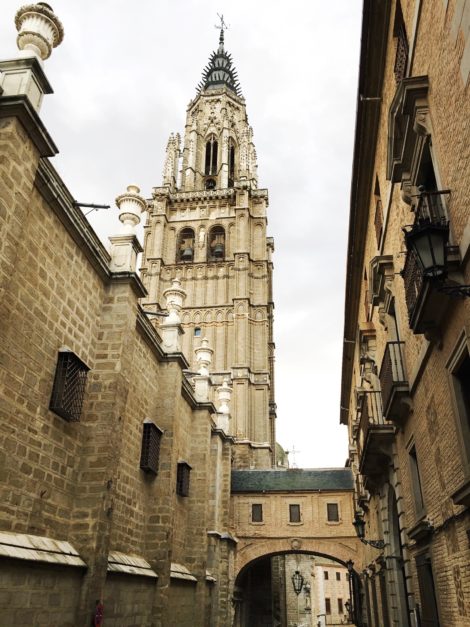 The Hop-On Train
Normally, you would find the hop on-hop off bus (which you can find in Toledo) but you can also find the hop on train (pic below). This" train" gives you a tour of Toledo but you cannot get off and tour as you please. I recommend you take this "train" and then decide what else you want to see in this historical city. The tour takes about 30 minutes.  There is A LOT to see and believe me, 24 hours isn't enough to see all that you want. But by taking this tour it will give you a better idea of the things/sites you would like to take more time visiting.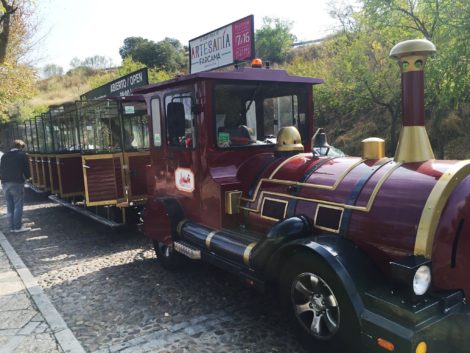 A Few Extras
Like I stated above, there is A LOT to see in Toledo. But if you find the time, I recommend you also visit these three sites:
Ancient Instruments of Torture: Yeah, it sounds creepy and it is. Still, it's worth a visit and allows a closer glance at what medieval torture was. If you're into unusual exhibits, then this is for you.
El Greco Museum: It consists of two buildings, a 16th-century house with a courtyard and an early 20th- century building forming the museum, together with a garden. The house recreates the home of El Greco, which no longer exists. This museum celebrates the mannerist painter El Greco (Domenikos Theotokopoulos, 1541–1614), who spent much of his life in Toledo, having been born in Fodele, Crete. ["El Greco Museum Toledo". Wikipedia. 20 Mar. 2017. Web]
If you happen to be as much into art as I am, then this museum is a definitely must. If you wish to know more about where to go in Toledo, please click here.
As always, I'd love to know your comments. And tell me, if you've ever been to Toledo, what was your favorite part?
Until next time! Cheers y'all! 🙂